sergey kasich was born in city of Sevastopol (Crimea). He graduated (summa cum laude) in 2006 from Lomonosov's MSU (Moscow) as psychologist. In 2007-2010 he was doing postgraduate studies in behavioral genetics and psychodiagnostics in both the Laboratory of General Psychology of Psychology Institute of Russian Academy of Education and Psychogenetics department of Psychology Faculty of Lomonosov's Moscow State University. He dropped the studies in 2010.
He was attending the studio Theremin Center for Electroacoustic Music in Tchaikovsky's Moscow State Conservatory from 2005 till it's formal closing in 2010. There he co-founded LoveLiveElectronic community (LoLieL.tk) for DiY & hacking approaches in electronic music and live performance in 2008. Which later in 2011 he reformed into the SoundArtist.ru ( SA)) ) – the community for experimental sound and technological arts.
He curates and produces events and projects supported by residents of SA)), including annual festival, monthly showcases and more.
Since 2008 he creates interactive and generative sound and multimedia art installations and pieces alone and in various collaborations, providing interaction design, sound and visual design, creative coding, development, engineering and consulting. As well he works as composer and sound-producer for theaters, performances and in other spheres, including pop-music projects.
Sergey supports and collaborates with world acknowledged artists in spheres of experimental sound and hybrid technological arts. In 2010 he produced first Russian performances by Holger Hiller. In 2012 he created sound-base for Mathew Herbert's performances at the BT River of Music festival (London). In 2013 he produced first in Russia Electrical Walks by Christina Kubisch. The same year he made real-time sound-tracks for two shows in Moscow of the award winning Blue Remix performance by Yann Marrusich. In 2014 sergey made a sound-software and also took part in a collaborative performance by Sonia Cillary "Behaviors" (Moscow). Since 2011 he collaborates with Electroboutique duo (Alexei Shulgin, Aristarch Chernyshov).
Sergey is the founder and curator of Moscow Sound Art Gallery SA))_gallery and Moscow Sound Art Studio SA))_studio. Since 2011 he teaches credited course "Technical basics of interactive arts" in Rodchenko's Art School in Moscow together with his SA))-collegues.
In 2014 his works has been presented at MusicMakers Hacklab of CTMTransmediale 2014, Sound Around Kaliningrad 2014, Archstoyaniye 2014, 404 Festival "Human vs User" and others.
In 2014 sergey has received a prestigious grant from Ministry of Cultures of Russian Federation in frames of federal program "Culture of Russia" for support of innovation projects in modern arts. First Russian Sound Art Framework SA))_Q-O - has been constructed and launched to work as a result of this grant.
In 2015 sergey kasich has been honored to be part of international jury of the Prix Ars Electronica in category of Digital Musics and Sound Arts. He also produced Russian Sound Art Showcase for the Ars Electronica Festival 2015 - the first ever collective exhibition of Russian sound artists outside the country.
In 2016-2017 sergey has been honored to become one of first three artists to receive monthly stipend from GARAGE museum of contemporary arts and SDVentures company "Art and Technology" grant for young artists working in art-n-science fields.
In 2018-2019 sergey was a recepient of the grant by GARAGE museum and BMWgroup in frames of "Art and Technology" programm. "Preservation of Silence" - ecological acoustic architecture and free-access public zone built in Moscow Gorky Park - was a rezult of this.
For 2019 sergey is residing in Berlin as guest for the program DAAD Berliner Künstlerprogramm.
 
сергей касич (kasich) – экспериментальный электронный музыкант, перформер, sound artist, разработчик интерактивных инсталляций. Автор ряда российских и Крымских фестивалей экспериментальной электронной музыки и технологических искусств.
Окончил с отличием МГУ им. Ломоносова (факультет психологии) в 2006м году.
2007-2010 - аспирант лаборатории общей психологии ИП РАО и кафедры психогенетики факультета психологии МГУ им. Ломоносова. Имеет публикации в области психодиагностики. В 2010м, не дойдя до защиты, ушёл из научных институтов.
Инициатор и основной куратор сообществ LoveLiveElectronic (LoLieL.tk) (2008-2011) и SoundArtist.ru (2011-н.в). C 2005 по 2010 гг посещал студию Термен-Центр при МГК. Чайковского как независимый композитор.
Принимал участие в андеграундных музыкальных проектах "Реактивный Параноид" (1997-1999, г. Севастополь), "Э.Ы.ЦеХ" (1999-2005, г. Севастополь) и др.
2010-2012 как композитор и саунд-дизайнер участвовал в продюссировании поп-артистов и записи музыки для кино. С 2014 года работает с театрами как композитор и саунд-дизайнер. Среди театральных работ: Лабиринт Шекспира (реж. Ф.Григорян, Ю.Квятковский; Театр Наций, 2014), НОРМАНСК (реж. Ю.Квятковский; ЦИМ, 2014-2015), СВАН (реж. Ю.Квятковский; ЦИМ репертуар 2015-2017) и др.
Инсталляции и перфомансы быди показаны на фестивалях:
ФЕСТИВАЛЬ НАУКИ 2008 (МГУ им. Ломоносова), ABRALIVE 2009 (ЦСИ ВИНЗАВОД, Москва), ФЕСТИВАЛЬ НАУКИ 2009 (МГУ им. Ломоносова), MIGZ 2009 (35mm, Москва), АРТ-ЗАВОД 2009 (ГЦСИ, Екатеринбург), MIGZ 2010 (Красный Октябрь, Москва), "5ive experiment" 2011 (35mm, Москва), "Мастерская 20'11" (ММСИ, Москва), фестиваль Science-Art 2012 (ЦДХ, Москва), Trend-Show 2012 (Крокус-Экспо, Москва), Тишина это Смерть 2012 (Art-Play, Москва), Electroboutique Requiem 2012 (Мультимедиа-Арт музей, Москва) и других.
В 2014м году работы были представлены в рамках международных фестивалей CTM-Transmediale 2014 (Berlin, Germany), Sound Around Kaliningrad 2014 (RU), Архстояние 2014 (RU), 404 Festival "Human vs User" (RU), Фестиваль Медиа Перфоманса проекта Платформа (RU), и других.
В 2015: Life Zone (MARS Moscow, RU), Архстояние 2015 (RU), ARS ELECTRONICA (Linz, AUS), Takamatsu Media Arts Festival (Takamatsu, JP)
2016: ArtBat Fest (Almaty, KZ), Palace of Youth в рамках театрального проекта (London, UK), ArtMosphere Architecture Biennal (Moscow, RU), Navigarte (Pisa, Italy).
2017: Destined to be Happy with Irina Korina (GRAD, London, UK), Cosmos Love (ArtPlay, Spb, RU), Geometry of Now (GES-2, Moscow, RU).
Выступления проходили на различных площадках, в числе которых: ЧФ МГУ им. Ломоносова (г. Севастополь), МГУ им. Ломоносова (г. Москва), Государственный Музей Маяковского (Москва), Государственный Центр Современного Искусства (Москва), кинотеатр "Художественный" (Москва), клуб ДОМ (Москва), ДК Горбунова (Москва), Государственный Центр Современного Искусства (Екатеринбург), Проект "Фабрика" (Москва), Арт-Плей на Яузе (Москва), Avant-space (Москва), Московский Музей Современного Искусства (Москва), ЦСИ Винзавод (Москва), Музей Музыкальной Культуры им. Глинки (Москва), Black-Box Theater (Санкт-Петербург), Музей Архитектуры им. Щусева (Москва), Музей Скрябина (Москва), Новый Манеж (Москва), Платформа (Москва), Вселенский Разум (Николо-Ленивец), МДФ (Москва), Политехнический Музей (Москва), Манеж (Москва) и многие другие...
сергей представлял российское саунд арт сообщество в звуко-технологических и хакерских институциях в рамках зарубежных презентаций в Китае (Шанхай, XinCheJian), Германии (Берлин, c-base), США (Нью-Йорк, Harvestworks, Resistor, Tisch School of Arts, NY University; Сан-Франциско, CNMAT, NoiseBridge; Сан-Хосе, Zero1), Японии (ICC, Tokyo; Tokyo Hacker Space), Италии (BRERA University of Arts, Milano).
Часто работает в коллаборациях с различными артистами. Сотрудничал с Наталией Полока, Юлией Боровой, Вадимом Смахтиным, Эдуардом Хайманом, Дмитрием ::vtol:: Морозовым, Олегом Макаровым, Алексеем Шульгиным и Аристархом Чернышёвым (electroboutique), Сашей Фроловой (Aquaaerobika), Фёдором Веткаловым, Дмитрием Шер и Виктором Чудненко, Сергеем Пахомовым, Ириной Кориной, Константином Гроуссом, Dragan Zhivadinov, Dallas Simpson, Norman Cook, Mathew Herbert, Yann Marrusich, Sonia Cillary и др.
Как куратор впервые представлял в России проекты зарубежных авторов: Mario de Vega , Victour Mazon Gourdoque, Holger Hiller, Christina Kubisch, Peter Zinoviev, Markus Popp.
Курировал секцию саунд-арт симпозиума Pro&Contra - спецпроекта 4й Московской Биеннале Современного Искусства 2011.
С 2011 года совместно с коллегами по SA)), сергей преподаёт авторский курс "Технические основы современного интерактивного искусства" в Школе Фотографии и Мультимедиа им. Родченко в Москве.
В 2014г сергей инициировал создание Московской Галереи Звукового Искусства SA))_gallery и Московской Студии Экспериментального Звука и Мультимедиа Технологий SA))_studio. Он является куратором обоих проектов.
В 2015 сергей вошёл в состав международного жюри конкурса Prix Ars Electronica. В этом же году он спродюсировал и курировал первый зарубежный показ отечественных звуковых художников Russian Sound Art Showcase на фестивале Ars Electronica 2015 (Linz Austria).
В 2017м стал одним из трёх лауреатов грантовой программы в области технологического и научного искусства Музея ГАРАЖ и компании SDV.
В 2018м представил интерфейс для многоканального звука "FingerRing" собственной разработки на международной конференции NIME (New Interfaces for Musical Expression) (университет Virginia Tech, США). С 2019го интерфейс находится в постоянной коллекции центра медиа искусств Harvestworks (Нью-Йорк, США).
В 2018м стал единственным стипендиатом программы "Искусство и Технологии" Музея ГАРАЖ и концерна BMW.
В 2019м стал гостем программы DAAD Berliner Künstlerprogramm.
 
 

5-minutes showcase of selected installations 2012-2015:
фрагменты живых выступлений (selected live actions):
некоторые интерактивные работы (selected interactive works):
 
"Анархия как контроль" | "Anarchy in Control" (ART-ZAVOD, Ekaterinburg 2009)
Julia Borovaya , Vadim Smakhtin , kasich - LIQUID~DO (Moscow Museum of Modern Art '11)
Star-map Sequencer designed for the Universal Mind opening 07|07|12 @ Nikolo-Lenivets
The Song for Sunset Performance 08|08|12 @ Sevastopol [Crimea]
Voice of Freedom installation (with Electroboutique) 2012 @ MAMM [Msc]
Presence FX (Эффект Присутствия) 2015 @ MARS Gallery [Msc]
генеративные инсталляции (selected generative works):
otzvuki echoes @ ELEKTROZAVOD , 2014
Atonal Architectonics: Ziggurat @ ARCHSTOYANIYE , 2014
избранные концепт-проекты (selected concepts):
Preservation of Silence for Expanding Space exb , Moscow 2015
the project has been shortlisted at Moscow Arhitectural Biennale and was built as a modified full-size model in 2016: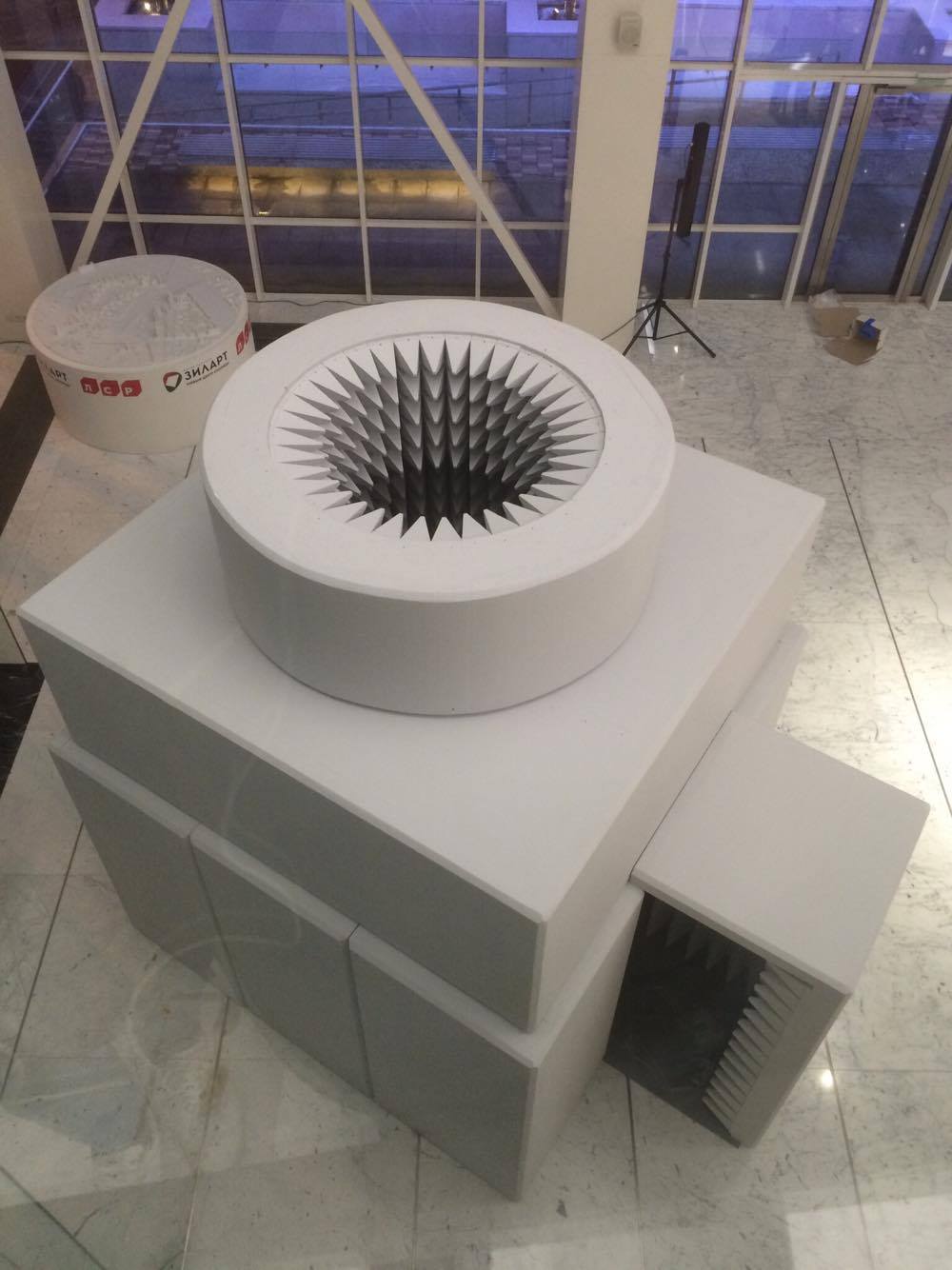 некоторые интерактивные медиа-перфомансы (selected interactive media-performances):
Psiosonics @ Skolkovo , 2010
HEART-bits @ Platforma Media-Festval , 2012
Virtual Escape v.01 first presented @ DOM CC , 2013
Behaviors performance (feat. Sonia Cillary, Alexey Epishev, Yan Kalnberzin and others) @ Platforma Media Festival , 2014
некоторые коммьюнити-проекты (selected community projects):
Podgotovlenniye Sredy (annual festival for experimental sound) @ ncca , mmoma , skryabin museum , Winzavod (annual since 2009)
PS-2016 short documentary by Anvar Musrepov
AlteFest - festival of alternative sources of energy & alternative arts @ ArtPlay, Tretyakov's Gallery, CHA, ShokFabrique (2010, 2011)
 
SA))_Q-O - first russian sound-art framework (gallery, studio, residency) @ diff venues (since 2013)
SA))_ZVUKVZVIZHAH programm for ARCHSTOYANIYE 2015
разработанные DIY-техники (credited techniques & developments) :
Credited "PC-speaker Synth" instruction video for students 2014
Credited "FingerRing" - the simplest technique for multichannel sound performance 2015-2016
more info on FingerRing: here
интервью (selected interviews):
 
by Ekaterinburg TV 2013
by SinergyTV 2012
by 3 Russian TV-channels 2014
открытые лекции (selected lectures):
[RU] Youth Forum 2009: "DiY and Hacking in music tech"
[RU] Archstoyaniye 2014: "Sound & Architecture"
[US] New York Electronic Arts Festival 2019: "Sound Arts in Russia"
фотокарточки для интересующихся: